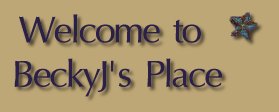 This is BeckyJ!

Becky and Barry - Our story

In Memory of my Mother

Quilts & Other Crafts

My eBay auctions

Recipes

My Tommy Shaw Pages

Aromatherapy (New as of 6/99)

Links

Contact Me
Please take a minute to check out this wonderful charity I am involved with.


Graphics made by BeckyJ

Copyright © 1997-2002 BeckyJ.
All Rights Reserved.